---
Bridging my love for K-Pop and my passion for nails.
I create custom press-on nails inspired by some amazing K-Pop Music Videos! All sets are hand painted by AshTae!
---
Prepare for the upcoming Stray Kids and TXT Tour by adding Kpop Inspired Nails to your Concert Fit!
Maniac MV and Good Boy Gone Bad MV inspired nails are now on sale.
---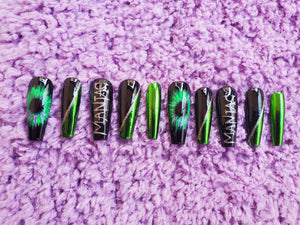 Stray Kids - Maniac Tour Nails
---
Our popular design inspired by Enhyphen's Drunk-Dazed Music Video, with more than 5 Million Views is now on sale!